I'm all about it. All of it.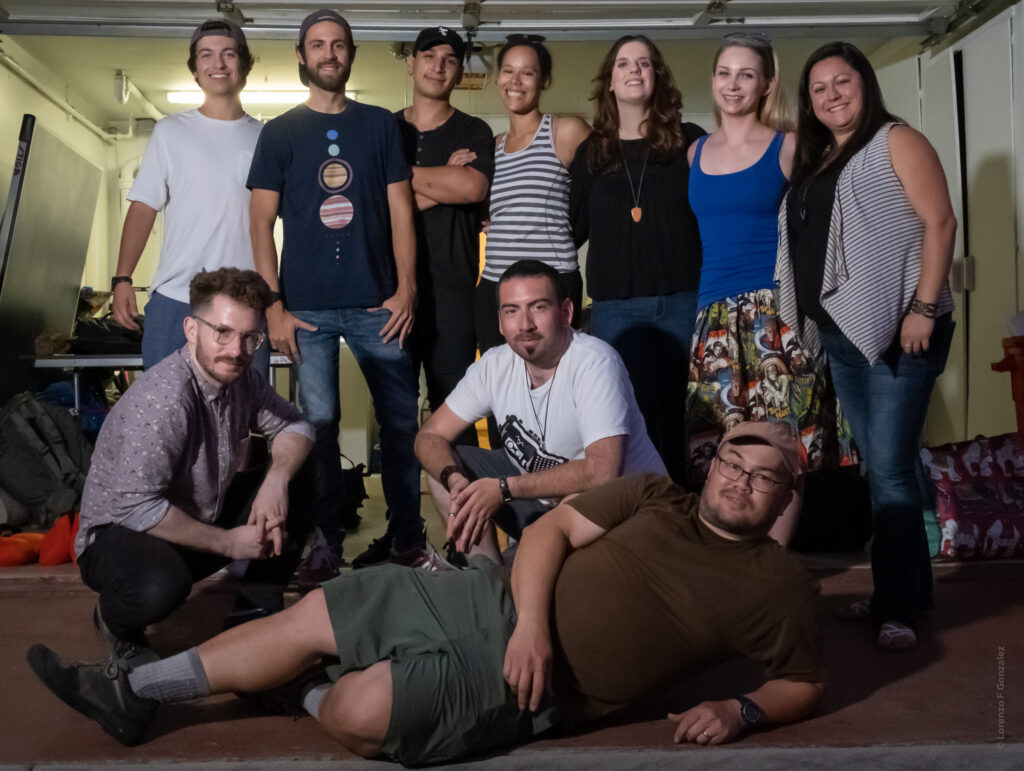 For the last couple years I've been enjoying working on Film and TV projects in many roles. Designing and executing the shots from behind the camera is my favorite, but I'll happily perform almost any crew role on a set, and I'm competent in most – from gaffer to sound recordist, BTS photographer to PA, from AD to AC to DP, no joke – I do it all and love it all! Except MUA, costume, and scripty. I don't do those. 😉 Posted below are a few bits of video I can call a "reel" of various sorts.
DP! Director of Photography. Cinematographer.
Yep, apparently so. I'm not just the guy running the camera in these scenes, but also designing the lighting, and figuring out how to translate the director's mind's-eye vision into something we can capture on a digital sensor. And trying to do it FAST, within the always-limited time available on location or with the cast and crew. In the case of some of these scenes, the director (and writer) is my wife. Which isn't exactly easy, despite how beautifully we get along "in real life" – I guess sometimes a film set is not quite real life. But it does help us grow as a couple every single time we work on something together.
For the tech-curious, the above reel was shot primarily on the Blackmagic Pocket Cinema Camera 6K, a few scenes on the Fuji X-T3, and just a couple scenes on the Fuji X-H1, using a fulsome stable of the beautiful Zeiss Milvus primes, and Fujinon primes and zooms. The footage is a mix of Blackmagic 12-bit BRAW, Fuji 10-bit LOG, and Fuji 8-bit LOG, and resolutions including 6K, 4K, and 1080p (the 120fps slo-mo is scaled up from 1080p). I edited and colored in Davinci Resolve, and uploaded to Vimeo as 4K h.265 (encoded by Handbrake from Resolve's DNxHR 12-bit 444).
Short Scenes
This 4-minute scene comes from a "psychological thriller" short film (the complete film is about 35 minutes long) that I signed on to as DP from a CraigsList ad. I did the edit, color, music direction and sound-design entirely myself, though I usually prefer that somebody else pick up those roles. This first one was shot entirely on the BlackMagic Pocket Cinema Camera 6K, with just one lens, a Zeiss Milvus 18mm F/2.8. Location is my house, and the street lighting is 100% "natural light only" – meaning streetlights, yard and porch lights, etc.
This next little scene is one from a set of 3, also from my wife's feature-film-in-progress/limbo. Hopefully I'll get permission to post the other two as well, because they really are lovely and they're all even funnier together. Shot on a Fuji X-T3.
Finally we have a complete scene from the dark comedy film written by my wife, but it's a sort of meta-scene – it actually plays on a TV the main character is watching late at night, and she draws some plot-driving motivation from it. The closeups and slo-mo gimbal footage is from the Fuji X-T3 with 56mm/f1.2, the wide/seated shot is the Fuji X-H1 with 23mm/f1.4 goodness. The stills were shot in a rushed 35 minutes of "golden hour" with a Nikon D750 and Tamron 24-70/f2.8 zoom.